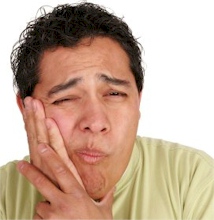 Emergency Care....
Accidents happen, and Cooper Dentistry is there for you when they do. Our priority is to prevent or eliminate pain, as well as ensure the life of a tooth that has been damaged.
We maintain a 24-hour answering service for after-hours emergencies. Dr. Cooper also reserves time in his daily schedule for dental emergencies. Should a problem arise, please call early so a time can be reserved for you.
When To Call..
Pain is your body's signal that something is wrong. If you have a toothache or a sore jaw, please call us immediately to get the dental care you need. Your comfort is our concern, and many patients find that a dental procedure to fix the problem is less painful than enduring the underlying cause.
Common Dental Emergencies
Loss of a filling
Loss of a crown or cap
Severe toothache
Chipped or broken tooth
Tooth knocked completely out of mouth