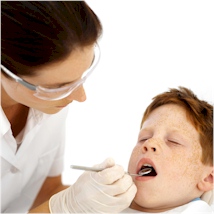 Exams & Cleanings...
As with any disease, prevention provides us with the best prognosis. Our experienced dental hygiene staff is dedicated to the preservation of your oral health. They are as concerned with preventing future problems as they are with detecting and fixing existing conditions. With the help of the dental services listed below, we can significantly reduce the incidences of both gum infections and tooth decay.
Our goal is to help you preserve your natural teeth, prevent dental disease and improve your oral health.
Dental Exams and Cleaning
Digital Oral X-rays
Fluoride Treatments
Tooth Sealants and Laser Cavity Detection
Periodontal (Gum Disease) Treatment
Oral Cancer Screening
Our first step is to get to know you and your individual situation first, so we can create the best dental care plan for you. Your comfort and satisfaction will always be our top concern.
Please Contact Us If...
1.It's been more than six months since your last dental exam
You're experiencing any discomfort or concerns
You are interested in any of teh dental cleaning and tooth decay prevention services we provide
To make an appointment, call us at 717-392-3211